New Ram 1500
For Sale in Emporia, KS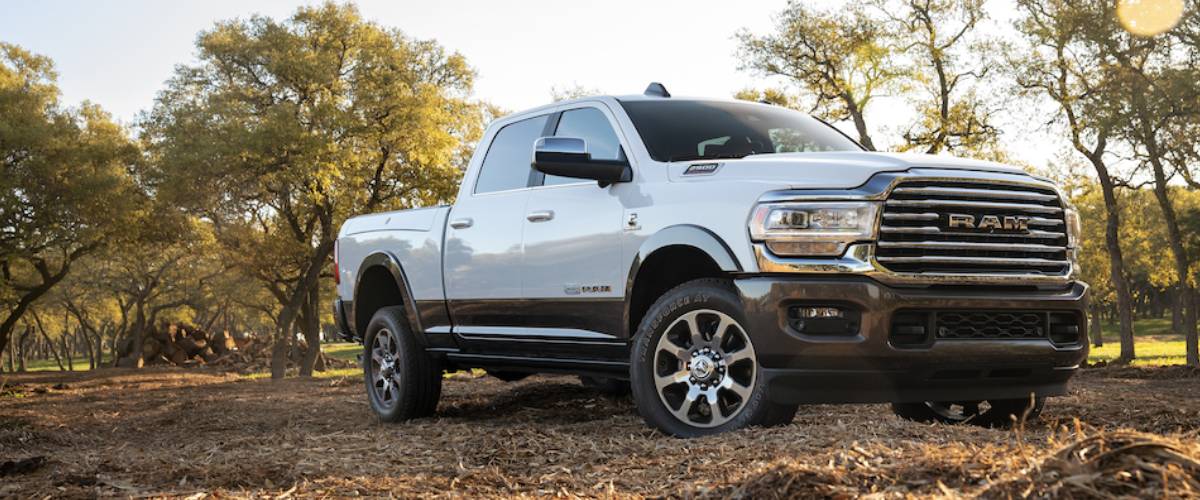 The Ram 1500: Powerful Performance for Every Driver
When choosing the perfect truck, drivers in Emporia are looking for a vehicle that can do any job, features state of the art safety and technology options, and looks and feels luxurious and stylish. With the new Ram 1500, drivers can have all of these things in one package. Knowing a bit more about the truck can help drivers choose the perfect package, trim level, and features to suit both their needs and budget.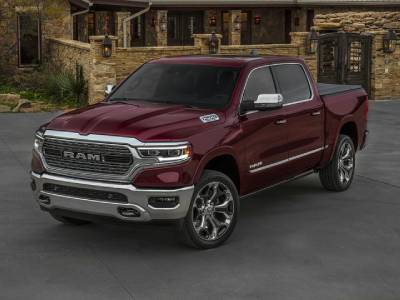 How much can the Ram 1500 tow? 
The Ram 1500 is built to take on any job required of it. The EcoDiesel V6 engine is designed for power and gives the truck the ability to tow up to 12,560 pounds beyond Burlington.
How fast can the Ram 1500 go? 
The Ram 1500 features a powerful engine, which means that it can reach speeds of about 130 miles per hour.


Does the Ram 1500 need a particular gas? 
Ram recommends that its trucks use mid-grade gasoline. However, many drivers find that regular grade fuel also works well to get them efficiently around Osage City.
How big is the Ram 1500 truck bed?
Ram 1500 truck beds come in two sizes. Both sizes are 66.4 inches wide and 21.5 inches deep. One truck bed is available with a length of 67.4 inches, and another has a length of 76.3 inches.
What tech is in the Ram 1500? 
Aside from its generous performance features, the Ram 1500 also offers drivers the latest in technology. A 12-inch touchscreen means that drivers can view apps, navigation directions, and maps. Also, a digital cluster display gives drivers the information they need, such as mileage or miles per hour, in an easy to read format. Drivers can also easily charge their devices with the truck's media center, which features four ultra-fast USB charging ports. Finally, an active noise cancellation system helps to reduce ambient sound.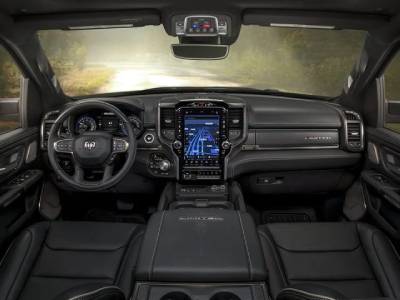 Does the Ram 1500 have Apple CarPlay and Android Auto?
Apple CarPlay and Android Auto are both available in the Ram 1500. These systems allow drivers or passengers to easily connect a smartphone to the truck's touchscreen, where apps for music or navigation can then be viewed and used. These systems also allow drivers to make calls when they leave Eureka.
What safety features are in Ram 1500? 
Performance should never come at the sacrifice of safety, and with the Ram 1500, it doesn't. The truck features systems such as blind-spot monitoring and rear cross-path monitoring, which track nearby traffic and alert drivers if another vehicle becomes too close. In addition, these systems monitor not only the area around the truck itself but also whatever is being towed outside of Topeka.
Other safety features include lane departure warning, which keeps track of driver movements and sends an alert when the vehicle drifts. Guided parking and a 360 surround-view camera help drivers back in and out of tricky spaces safely and quickly. Finally, an adaptive cruise control system slows the vehicle when it is approaching cars.
What is the best Ram 1500?
The Ram 1500 that is the best is mainly up to what features you are looking for and fits their budget. Luckily, the Ram 1500 is available in six trim levels, which include the Limited, Laramie Longhorn, Rebel, Laramie, Big Horn, and Tradesman, so buyers can pick the vehicle that works best for them.
Does the Ram 1500 have a locking rear differential? 
The new Ram 1500s feature, for the first time, a locking rear differential. This gives drivers the ability to lock or unlock the differential, which offers more traction when off-roading, towing, or in slippery or hazardous situations.
Visit Us Today!
At Clint Bowyer Chrysler Dodge Jeep Ram, we want to answer any questions you might have about the Ram 1500. Come in today to set up a test drive and let us show you everything this truck has to offer.