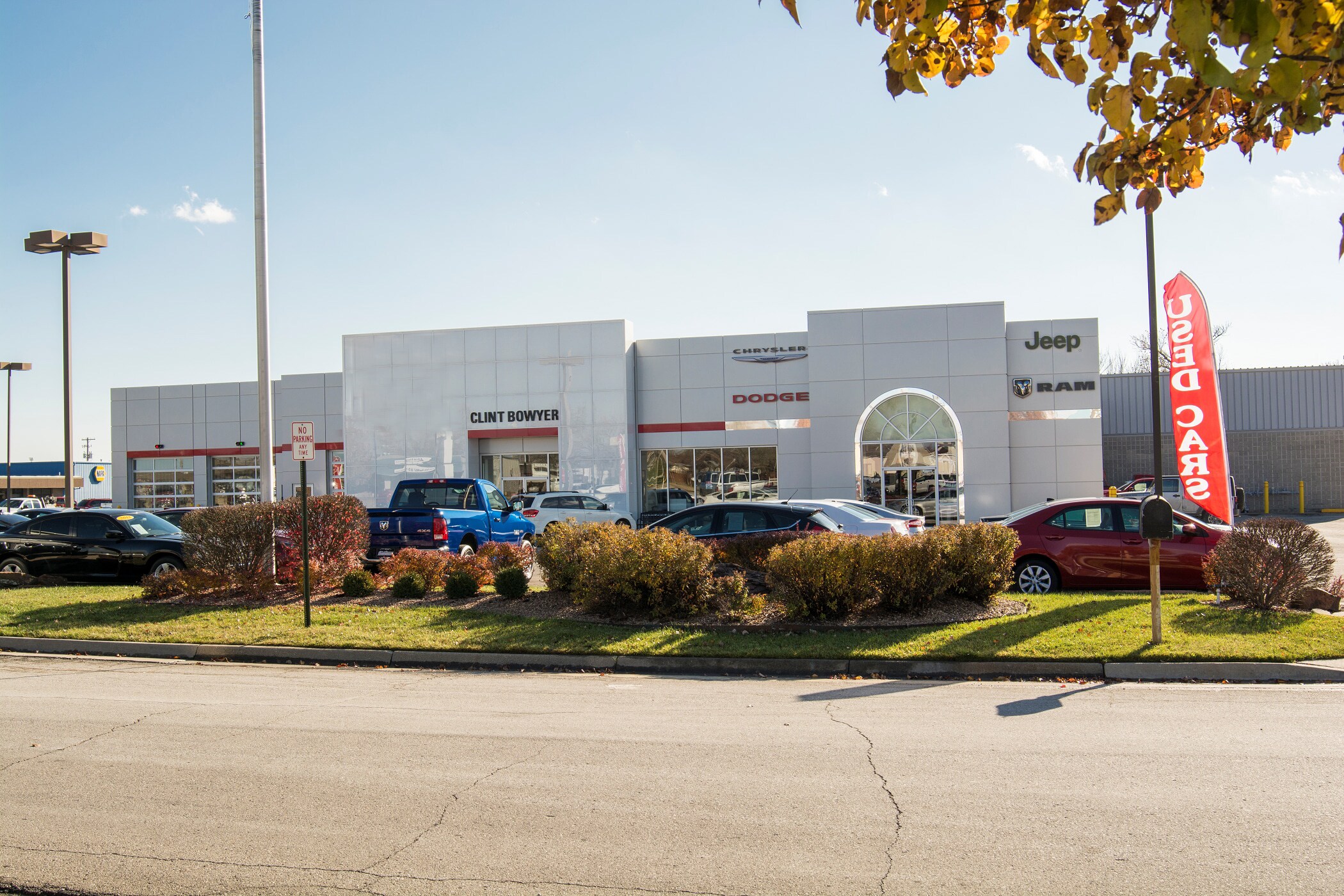 Clint Bowyer Chrysler Dodge Jeep always maintains competitive new and pre-owned inventories of Chrysler, Dodge and Jeep vehicles. Staffed with experience sales representatives and top trained technicians, we're here to provide a fun, easy and valuable automotive shopping and service experience. Stop by our dealership today at 2815 W Highway 50 to see for yourself!
Clint Bowyer Chrysler Dodge Jeep is located in Emporia, KS.  We proudly serve the following areas in Kansas: Cedar Point, Olpe, Reading, Marion, Williamsburg, Topeka KS, Osage City, Lebo, Burlington, Waverly, El Dorado, Yates Center, Paola, New Strawn, Lyndon, Council Grove, Americus, Strong City, Howard, Newton, Cottonwood Falls, Topeka Kansas, Minneapolis KS, Wichita, Lawrence, Ottawa, Cassoday, Heston, Hartford, Gridley, Virgil, Hamilton, Severy, Madison, Eureka, Augusta, Andover, Derby, Fredonia, Iola, Neosho Falls, Garnett, Melvern, Osawatomie, Admire, Bushong, Peabody, Florence, Hillsboro, Herington, Junction City, Manhattan, Fort Riley, Baldwin City, Pomona, Lawrence, Matfield Green, Toronto, Galena MO, Olathe KS, Omaha NE, New Century, Lenexa KS, Lee's Summit Missouri, and Leawood KS. Clint Bowyer Chrysler Dodge Jeep is centrally located in Kansas near the intersection of I35 and I335 Kansas Turnpike.  Proudly serving the Flint Hills

Clint Bowyer Chrysler Dodge Jeep has an excellent selection of used vehicles, used cars, used trucks, used suv, preowned cars, pre-owned trucks, preowned suv.  Emporia used vehicles include the following models: Dodge Truck, Nissan Truck, Chevy Truck, Chrysler Truck, Ford Truck, Dodge Cars, Ford Cars, Chevy Cars, Chrysler Cars, Nissan Cars, KIA Cars, Honda Cars, Hyundai Cars, Ford SUV, Chevy SUV, Dodge SUV, Nissan SUV, Honda SUV, Hyundai SUV, KIA SUV, Chrysler SUV, Jeep SUV as well as Toyota Cars, Toyota Truck, Toyota SUV and Hybrid models. 

Clint Bowyer Chrysler Dodge Jeep is very proud to offer: financing, special financing, please see our finance page for full details.  We are proud to offer financing through Chrysler Capital Financing.

Clint Bowyer Chrysler Dodge Jeep is a locally owned and operated business. 
Clint Bowyer Chrysler Dodge Jeep Mission Statement
A goal of business excellence is that they strive to achieve on a daily basis. Clint Bowyer Chrysler Dodge Jeep is no exception. Our goal is simple and it's all about getting back to the basics of selling a car. It has nothing to do with rebates, financing, or trade allowances. That's important, but what most people remember is how they were treated during and how they were taken care of after the sale. That's where Clint Bowyer Chrysler Dodge Jeep strives to out perform the competition. We want to make buying a car a pleasant experience and it's not all about the bottom line. How were you treated by the receptionist in the lobby? Did the salesperson listen to what you wanted in a car and do everything in their power to accommodate you? Does the salesperson call you after the sale to make sure everything is going ok? Does the service department take care of you and your car to the best of their abilities? You must perform these tasks to fully please a customer and to have a chance at their repeat business. That's the mission at Clint Bowyer Chrysler Dodge Jeep. You can contact us at (877) 807-1716 
    We promise to do whatever it takes to make you happy
    We promise to treat everyone with respect
    We promise to provide you with a pleasant purchase & ownership experience
    We promise to listen to what is important to you
    We promise to do it right
    We promise to provide you with all the information you need to make an informed decision
   We promise to give you fair pricing and one of the best selections
   We promise to give you our absolute best service
   We promise to continue to do our best to make your ownership experience the best